BITKIT
The BitKit is a JAMMA FPGA platform for accurately playing arcade classics. The BitKit includes a USB interface for updating firmware, and loading games (rom files are NOT included).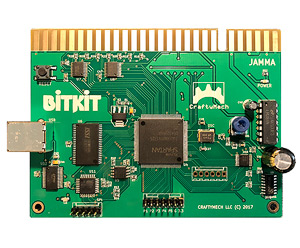 Supports 20 Games!
High Score saving & online leaderboards
Direct boot option
Independent settings for each game
Screen flip & cocktail support
Free Play option for all games
USB interface for easy updating
* Game rom files are not included.
Supported Games: Eyes, Mr TNT, Eggor, Piranha, Titan, Scramble,
Super Cobra, Jump Bug, Turtles, Amidar, Glob/Beastie Feastie, Pengo, Lizard Wizard,
Anteater, Frogger, Nibbler, Fantasy, Pioneer Balloon, Vanguard, Zarzon
The BitKit is intended for home use only.